Twenty-fourth Sunday in Ordinary Time
Sunday, September 17, 2017
LIVE THE LITURGY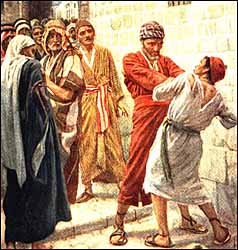 Relationships are the focus of our reflection again this week, calling us to practice forgiveness unconditionally. This is a difficult thing for us to do. Forgiving someone does not mean that we necessarily tolerate or condone their behavior. Rather, it has to do with letting go of the anger and the hurt that really is more self-destructive than productive. We are led to recognize the brokenness and sinfulness of each other. We may, at times, have to walk away from an abusive or destructive relationship. How-ever, keeping in mind the lessons it taught, we can free ourselves from its hurtful grasp by learning how to for-give as God forgives. It's a tall order.

PRO-LIFE CORNER
"Many times truth and justice are compromised by the desire to avoid offending any-one! This applies to those of us who may be afraid to speak the truth about abortion. Let us pray for God's courage to always speak the truth in defending the culture of life.

Religious Education News!
Religious Education Classes for high school and grade school will begin today, Sunday, September 17, from 11:00 a.m. to 11:50 a.m. in the Formation Center. Today, September 17, is also Catechetical Sunday and the 2017 theme is "Living as Missionary Disciples". All Catechists are asked to attend 10:00 Mass for the Commissioning Ceremony.
9th, 10th, 11th Grade Students Looking Ahead
Next Sunday, September 24 at 11:00 a.m. there will be a meeting for 9th, 10th, and 11th grade students (including Bishop Guilfoyle students) and their parents in our Formation Center regarding the Confirmation Preparation Process.
Fire and Disaster Collections
In addition to our Hurricane Harvey Collection you may have heard that a member of our parish and her son lost their home and all of their possessions due to a fire the evening of August 29. We are asking for help through gift card donations or a monetary donation. Checks may be made out to Sacred Heart and we will give her one combined check. Please put your donation in a separate envelope and mark "Fire Donation" on the outside. Please keep the family in your prayers and thank you for your generosity.
Christian Initiation
Were you baptized Catholic but never received First Holy Communion and/or Confirmation? Christian Initiation is for you also. Learn more about our Catholic faith at Christian Initiation classes held on Sundays at 11:00 a.m. in Sacred Heart Formation Center. Call Mike Kelleher at 934-4076 or the rectory office at 943-8553.
Memorial Donations
Sacred Heart Church has received a large number of donations in memory of Marcella Adams. We thank those who have donated and their generosity.
VBS Mighty Fortress on Proclaim
If you missed the live telecast of last Sun-day's Proclaim, featuring Sacred Heart's VBS
Proclaim! E061 August 27, 2017 from Diocese of Altoona-Johnstown on Vimeo.
In Your Prayers
Roberta Alderisio, Arlene Balestino, Rosemary Barcaro, Barbara Barker, Ann Bauer, Donald Belsey, Paxton Burr, Anna Chonko, Ron Clawson and family, Denise Conrad, Mary Costlow, Betty Dalansky, Evan Decker, Dominick DeVecchis, Thomas Dobson, Joan Donnelly, Debra Dora-zio, Matt Dorman, May Duey, Mike Dutchard, Jacob Eshlenan, Shirley Fanella, Gianna Feather, Kathleen Foster, George Frederick, Anna Marie Gority, Helen Gummo, Jean Hagan, Elaine Hauser, Janet Hilton, Jody Himes, Michael Himes, Nancy James, Larry Knott, Sr., Meredith Kuhns, Riley Marie Lansberry, Richard Lauer, Brody Lidwell, Perry Lloyd, Larry Lytle, Patty Maria, Tom McGinnis, Brigid McManaman, Pat "Koehle" McTavish, Vicki Medeiros, Debbie Murtagh, Kevin O'Rorke, Donny Ott, Randy Parson, Rene Reynolds, Camden Rhodes, Joan Robison, Gavin Ross, Christopher and Tina Ruffing, Patty Ruffing, Maureen Sherbine, Jacqueline Smith, Richard Soller, Clara Tomlinson, John Templon, Pete Szebin, Caitlin Thompson, Mary Pat Williams, Angie Yingling, and Daniel O'Brien's and Jacob Prendergast's safe deployment.

In the event our prayers have helped, you are asked to call the rectory to have your name removed from the list. You can always have it put back on if need be. Thank you.

To have a name added to the prayer list, please call the rectory office before noon on Monday to have the name placed in that weekend's bulletin. You must have the person's permission to print their name.