Sixth Sunday of Easter
May 22, 2022
LIVE THE LITURGY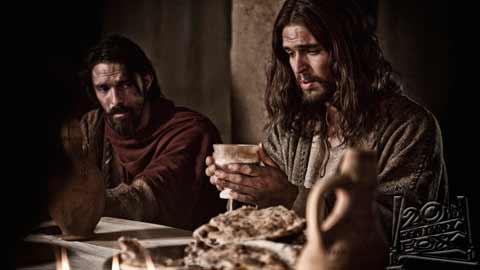 Jesus tells his disciples, "Peace I leave with you; my peace I give to you. Not as the world gives do I give it to you." The peace that Jesus gives is far different than the kind that comes from the absence of war, conflict, or affliction. The peace that God offers is found alongside suffering and hardship, not necessarily in their absence. St. Teresa of Avila offers us a bit of wisdom regarding peace: "May today there be peace within. May you trust God that you are exactly where you are meant to be. May you not forget the infinite possibilities that are born of faith. May you use those gifts that you have received and pass on the love that has been given to you. May you be content knowing you are a child of God. Let this presence settle into your bones and allow your soul the freedom to sing, dance, praise, and love. It is there for each and every one of us."

In order for us to experience the divine peace that Jesus offers, we have to allow God's presence to settle into our bones! It is only when this happens that we can be truly taught by the Holy Spirit to discern the true path to peace and find ourselves with untroubled hearts. The world and our lives are so unpredictable and changeable. If we look for a source of lasting and real peace only there, our search will never be satisfied. Something will always unsettle and disturb us. The Jewish disciples could really relate to what Jesus was saying about peace (shalom). They already knew that it was more a matter of achieving wholeness and wellbeing than anything else.

Wholeness and well-being are precisely what is uncovered when we begin to really see and know the height, depth, and breadth of God's presence and promise. The elegance of God's Divine life flows through our blood and the marrow in our bones. It is that close and deep. As we breathe in and exhale God's life, peace becomes what we know within and what is exhaled out. This remains in the midst of intense conflict, persecution, suffering, rejection, and even death.
Liturgical Publications, Inc
PRO-LIFE CORNER
Those who favor euthanasia (mercy killing) speak of the right to die. No one needs a right to die; it's a fact of life. What they really want is the right to kill.

SACRED HEART RELIGIOUS EDUCATION
Sacred heart is currently in need of Catechists for our grade school and high school program. The role of a Catholic catechist is to catechise (teach) the faith of the Catholic Church by both word and example. Our program is held on Sundays from 11:00-11:50 a.m. and will begin on September 18, 2022 (Catechetical Sunday) and end on April 30, 2023. Any person willing to volunteer for this ministry will need to go through the Diocese of Altoona-Johnstown Youth Protection Process. For more information; please contact Judy Wahl, DRE at Sacred Heart Formation Center at 814-944-3922 .
SACRED HEART AND ST. MARY BASEBALL TICKETS
Both parishes have tickets to the Altoona Curve vs. The Erie Seawolves baseball game on Friday, June 17th at 6:00 p.m. Tickets are $5 for registered parishioners and $11 for non-registered individuals . Seats ate in section 108 and are available at each of the Rectory offices.
A FAMILY PERSPECTIVE
Today Jesus gives this advice: "Do not let your hearts be troubled." Worry and anxiety can consume our lives preventing us from seeing the love which surrounds us and binds us to one another. Don't miss the forest for the trees. We are living today what we worried about yesterday.
Bud Ozar
Stewardship Reflections
Think about the times in your life when this has been said to you. Maybe it was after someone complimented you on a job well done, and you realized that you were walking through life with a little more confidence. Maybe it was after meeting someone special, as you carried the glow of that relationship wherever you went. Chances are, if someone has noticed something different about you, it's because, inwardly, you've been changed by the loving or respectful actions of another person.

Love, you see, can make us into new creations. From the love of God flows the grace to tackle any challenge, including the biggest challenge of all: loving each other well. Christ knows what a big request this is. He was human, too. He came and lived among us. He knew intimately what it was to love people in the chaos of their own flaws. He knew what he was asking of us when he said, "As I have loved you, so you should also love one another."

In essence, this is the call to stewardship: loving as Christ loves, amidst the messiness of everyday reality. Loving with accountability, challenging ourselves and our brothers and sisters to be faithful even when it is hard. Loving with an unflinching sense of hospitality that welcomes even those we do not agree with or understand. Loving with gratitude, giving thanks for the great variety of ways that Christ can make himself known to us through others.

It isn't easy - we all know that. But if we ask God for the grace to remain steadfast in this greatest commandment, we will be given what we need to live as new creations.
- Tracy Earl Welliver, MTS
REGISTRATION OF PARISHIONERS
We are always happy to welcome new parishioners to Sacred Heart Parish and Saint Mary Parish. Please introduce yourself to a member of the parish staff and register at the rectory. Registration, the practice of stewardship, and regular participation in the Eucharist indicate that a person is an active member of the parish and is eligible to act as a godparent or sponsor. As a church community seeking to be faith-filled disciples and good stewards, the sacrifice of our time, talent and treasure are essential for the common good.
Prayer Requests
Please remember the health intention of Mark Blackie, Rod Baronner, Dan Bauer, John Belin, Damian Brananas, Vince Bumann, Josephine Butler, Tommy Cheslock, Jack Chilcote, Brandon Conaway, Shirley Conlon, Denise Conrad, James Conrad, Kathy Corl, Dan Costlow, John Delin, Joan Donnelly, Matt Dorman, Amelia Doughurty, Lois Duncan, Sam Dunio, Willis Edevane, Ruth Ann Frederick, Shane Gladfelter, Phyllis Hartman, Phyllis Hauser, Alva Herman, Ralph Hildebrand, Diane Horton, Paulette Johns, Kenny Anthony Keagy, Sue Koehle, John Leshene, Janet Lego, Beth Lloyd, Cindy Lytle, Barbara Mattren, Chad McDowell, Charles McGrain, Donald McIntyre, Bev Mueller, Kevin O'Rourke, Bill Orr, Karen Pacifico, Gail Pearson, Sarah Rihnovich, Brian Sherbin, Hank Sherbin, Laura Snyder, Peggy Stauffer.

If you would like to add a sick or hospitalized person to our prayer list or re-add a person, please call the rectory office, at 943-8553. Parishioners of Saint Mary are encouraged and welcome to participate. Remember, you must have the permission of the ill person/family to publish their name.