12th Sunday in Ordinary Time
June 20, 2021
LIVE THE LITURGY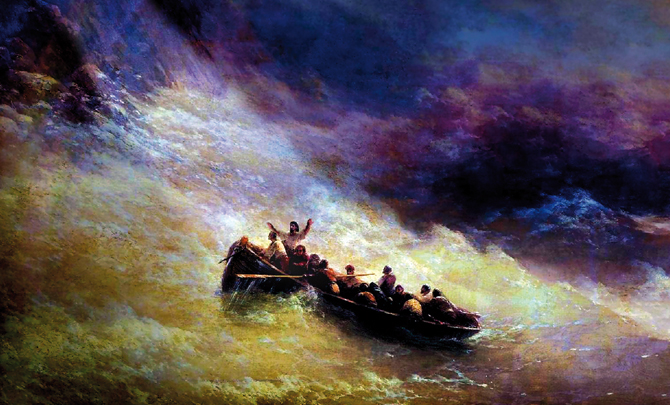 As we look at our lives and world events, do we ever find ourselves wondering if God is sleeping? After all, maybe God's patient, unconditional love has run its course and He is finally fed up with humanity's reluctance to accept the truth about who we are. God really can't be that patient! All throughout human history, many have prayed to God for intervention or for particular needs. Because their prayers were not answered in the way they wanted or anticipated, they felt that God may have abandoned them. Were they right? It seems that we are continuing, at a rapid rate, down a path of destruction. Do you not care, God, that we may be perishing?

Maybe the storms and the waves are necessary. If we listen, they can teach us valuable lessons. Without them, we would never learn that we have the strength to endure, understand the use-lessness of fear and worry, or develop the ability to really trust. If God immediately rushed in and simply calmed things down before they got difficult, what good would that really be? We would miss opportunities to learn how to drink more deeply of life, treasure its complexity, irony, and beauty and fully engage ourselves in surrendering to the love of our Creator.

That's the balancing act that comes with faith. It is not God's job to prevent us from encountering the torrential rains and winds of life. Many believe that if faith is done the right way, that God will provide for smooth sailing. That's not how it works. God permits us to ride out the difficult stuff knowing that the storm will eventually be calmed. Do we not have faith that God will do this? True faith trusts in the steadfastness of God's love when the seas are calm and when they are choppy. God's unconditional loving presence shines through all of it and endures forever. Knowing this allows us to put our boats out into unchartered waters without hesitation. Knowing that we prefer the comfort and safety of what we know to be still waters, how do we feel when Jesus says "Let us cross to the other side"?
Liturgical Publications, Inc
PRO-LIFE CORNER
We must not be sur-prised when we hear of murders, of killings, of wars, of hatred. If a mother can kill her own child, what is left but for us to kill each other.

Secretary Retiring!
"In late Spring of 1992, Very Rev. Stan Carson, VG, was transferred to Sacred Heart Church. (he was not a Monsignor then.) In September 1992 he advertised for a Receptionist/Bookkeeper/ Secretary for the rectory and I was hired. Jane Kiser was hired as the secretary for the school and we became good friends. Every morning she provided me with coffee and pretzels! This year makes 29 years I have been employed at Sacred Heart. I have been so blessed to have met so very many kind and friendly parishioners and I appreciate all of you. You have helped me when I needed help and I hope that I have been there for you when you needed help. Wednesday, June 30 will be my last day."

May God bless you all.
Paulette Johns.
Jeff Arpino Memorial Mass
Memorial Mass, Wednesday, June 23 at 6:00 p.m. at Sacred Heart Church. Refreshments will be served in the courtyard after Mass, served by our Arise group.
FATHER'S DAY
Fathering is an awesome responsibility and not for the weak or transient. Today we humbly recognize our need for courageous fathers to stand boldly in the face of the powerful cultural forces in our culture which threaten our children. Today we ask fathers to be courageous leaders we need.
Stewardship Reflections
Do you really trust God? Is God your first choice or last resort? Is your faithful Stewardship something you just do on Sunday or do you live the Gospel message every day of the week? Many of us know about God. How many of us have a personal relationship with Him? Start now, open your heart to receive our Lord. Talk and listen to Him throughout the day, in all circumstances.

Our faithful response to this love should be increased trust and a sense of stewardship of the gifts with which we have been blessed.

Live the Liturgy
As we gather today to reaffirm our faith in the real presence of Christ in the Eucharist, we are reminded that we are also the Body of Christ. The mission of the Gospel calls us to be Christ for others. There is so much brokenness and pain in our world. Many people are lost and feeling lonely.
REGISTRATION OF PARISHIONERS
We are always happy to welcome new parishioners to Sacred Heart Parish and Saint Mary Parish. Please introduce yourself to a member of the parish staff and register at the rectory. Registration, the practice of stewardship, and regular participation in the Eucharist indicate that a person is an active member of the parish and is eligible to act as a godparent or sponsor. As a church community seeking to be faith-filled disciples and good stewards, the sacrifice of our time, talent and treasure are essential for the common good.
Prayer Requests
Please remember the health intention of Mark Blackie, Rod Baronner, Jack Chilcote, Brandon Conaway, Shirley Conlon, Denise Conrad, James Conrad, Kathy Corl, Dan Costlow, Ed Daniele, Joan Donnelly, Matt Dorman, Amelia Doughurty, Lois Duncan, Sam Dunio, Phyllis Hartman, Phyllis Hauser, Diane Horton, Kenny Anthony Keagy, Beth Lloyd, Cindy Lytle, Donald and Shirley McIntyre, Edmund McConnell, Elizabeth McConnell, Charles McGrain, Lori Moschat, Bev Mueller, Maureen O'Rorke, Karen Pacifico, Gail Pearson, Christoper Ruffing, Robert Ruffing, Susan Sakerak, Brian Sherbine, Laura Sny-der, Peggy Stauffer, and Ken Tromm.

If you would like to add a sick or hospitalized person to our prayer list or re-add a person, please call the rectory office, at 943-8553. Parishioners of Saint Mary are encouraged and welcome to participate. Remember, you must have the permission of the ill person/family to publish their name.