Twenty First Sunday in Ordinary Time
August 25, 2019
LIVE THE LITURGY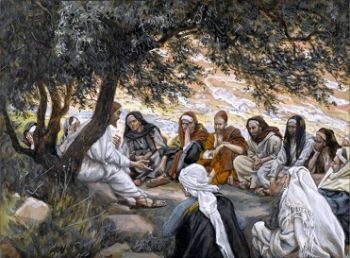 "We ate and drank in your company and you taught in our streets!" In this Sunday's Gospel, Jesus notes that it requires moral strength to enter the kingdom of God. It's not mere proximity to righteousness that saves. Rubbing elbows with the righteous is not the same as being truly holy ourselves. Unfortunately, we can have this attitude in many areas. It's easy to see who may seem "first" in the eyes of the world. This occurs in our workplaces and among our public figures. It can also happen in our schools, local parishes, and the larger Church. For some of us, the temptation to have the popularity and prestige rub off on us can be fairly strong. If only we are in the right place with the right people, surely others will associate us with what they possess!

But salvation is worked out in each individual life. It is our task not merely to show up, but to be transformed. And the truly transformed may not be everyone we expect. "People will come from the east and the west and from the north and the south.....some are last who will be first, and some are first who will be last." Some who seem first in reputation now may be last in the kingdom of God. Other who appear now on the furthest fringes of society-but better imitate the lowly holiness of Jesus-will be first in his kingdom. What are your concerns? Proximity and reputation? Or prayerful righteousness?
Liturgical Publications, Inc
PRO-LIFE CORNER
The fight against abortion is "part of the battle in favor of life from the moment of conception until a dignified natural end. This includes the care of the mother during pregnancy, the existence of laws to protect the mother post-partum, and the need to ensure that children receive enough food, as well as providing healthcare throughout the whole length of life....."
- -Cardinal Jorge Bergoglio in book of inter-views "Pope Francis: His Life in His Own Words"
Sacred Heart Religious Education
CCD Program is currently in need of Catechst's. We have an opening for 5th and 6th grade (combined class) catechist and 9th grade. Background clearances and completion of Diocesan Virtus training is necessary. Please contact Judy Wahl at 944-3922 for more information. Thank you.
Ministry Training
Have you or a family member ever considered becoming an Altar Server, Reader, or Extraordinary Minister of Holy Communion? If you or someone you know is in good standing with the Catholic Church and would like to be trained in any ministry, please call Mike Kelleher (814-934-4076) to set up a brief training session.
REGISTRATION OF PARISHIONERS
We are always happy to welcome new parishioners to Sacred Heart Parish and Saint Mary Parish. Please introduce yourself to a member of the parish staff and register at the rectory. Registration, the practice of stewardship, and regular participation in the Eucharist indicate that a person is an active member of the parish and is eligible to act as a godparent or sponsor. As a Church community seeking to be faith-filled disciples and good stewards, the sacrifice of our time, talent and treasure is essential for the common good.
Stewardship Reflections
There is a difference between hearing God's word and actually practicing it. In beckoning us to enter the kingdom "by the narrow door," Jesus directs us to live as wise stewards and disciples and travel lightly, unburdened by possessions. We are to narrow our focus so only the heart of Christ fills our vision.

As a family, consider making a basic and practical stewardship action plan for the next week. Help an elderly neighbor take out their trash or help with their yard work; call or send a card to a homebound person, or someone who lives alone; invite some-one who is alone to join you for a meal. "It is more blessed to give than to receive."
Endowment Distribution
We recently received an annual distribution from the Sacred Heart Parish Angel Fund for Education Endowment, administered by the Independent Catholic Foundation in Altoona. According to the endowment agreement, these funds will be used for Angel Fund Grants to off-set the amount of money parents must pay for Catholic Education. Learn more about the Foundation's mission at www.icfdaj.org or contact them at 201-2080.
In Your Prayers
Please remember in your prayers the health intention of Allan Bauer, Mark Blackie, Rod Baronner, Jack Chilcote, Brandon Conaway, Denise Conrad, James Conrad, Kathy Corl, Betty Dalansky, Joan Donnelly, Matt Dorman, Lois Duncan, Michael Faherty, Sarah Gil, Phyllis Hartman, Emily Hasan and unborn baby, Charles McGrain, Christomer Ruffing, Robert Ruffing, Tina Ruffing, Susan Sakerak, Brian Sherbine and Peggy Stauffer.

If you would like to add a sick or hospitalized person to our prayer list or re-add a person, please call the rectory office, at 943-8553. Parishioners of Saint Mary are encouraged and welcome to participate. Remember, you must have permission of the ill person/family to publish their name.