Third Sunday of Lent
Sunday, March 19, 2017
LIVE THE LITURGY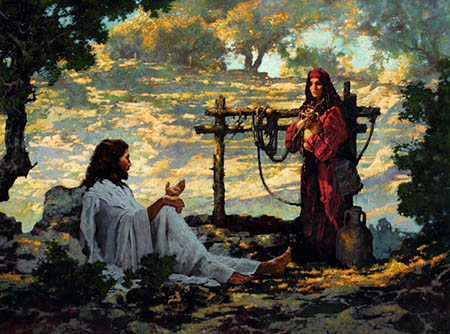 Today Jesus meets the woman at the well. After her time with Jesus she tells others about this man who is able to see into the depths of a person's life. Is Jesus that person for you? Have you allowed him into the depths of your life? Do you go out and tell others about this Jesus, as the Samaritan woman does? Do you share the good news by the way you live your life?
- 2017, Diocese of Altoona-Johnstown, Liturgy Office
PRO-LIFE CORNER
As Catholics, we believe and put our hope in a merciful and loving God. We are con-scious of our own brokenness and need for redemption. Our Lord calls us to imi-tate him more perfectly by witnessing to the inherent dignity of every human being, including those whose actions have been despicable. Our faith and hope is in the mercy of God who says to us, "Blessed are the merciful for they shall be shown mercy" (Mt 5:7) and "I desire mercy, not sacrifices" (Mt 9:13). As Christians we are called to oppose the culture of death by witnessing to something greater and more perfect: a gospel of life, hope and mercy.

Sacrament of Reconciliation
There will be no 11:30 a.m. Reconciliation this Sunday, March 19 . It will be the Sacrament of Reconciliation for our 5th and 6th grade students. Also, next Sunday, there will be no 11:30 a.m. Confessions. It will be the Sacrament of Reconciliation for our 7th and 8th grade students.
Religious Education News
There will be an 11th grade Candidate/Sponsor reflection session on Sunday, March 26, from 1:00-2:30 in the For-mation Center.

There will be music practice on Sunday, March 26 at 11 a.m. in the Formation Center for our Palm Sunday Pro-cession for grades PreK through 8th. This includes any Catholic School students who would like to attend. Thank you.
Catholic Relief Services Collection
Next weekend we will take up a collection for Catholic Relief Services. This collection serves Jesus in the victims of human trafficking, those who suffer from unjust laws, and those who need pastoral care and humanitarian assistance across the globe. Through supporting this collection you help Jesus in disguise.
Sacred Heart Novena
Our 52nd Annual Sacred Heart Novena begins Monday, March 27 at 7:00 p.m. Bishop Mark Barchak will be the Celebrant and Homilist. That will be the only Mass for the opening day. A reception will follow in the Formation Center, hosted by our Social Committee. Msgr. Stan Carson, former pastor, will join us for the closing night of the Novena, Tuesday, April 4th.
Stations of the Cross
During Lent, we will have Stations of the Cross on Fridays at 5:30 p.m. followed by Mass.
Liturgical Minister Training
Anyone who is interested in being trained as an Altar Server, Lector or Extraordinary Minister of Holy Communion should contact the rectory at 943-8553 so that training sessions may be scheduled. Servers should be in the 3rd grade or older. We are in particular need of Lectors for 5:30 p.m., 8:00 a.m. and 12:00 Noon. Extraordinary Ministers for 8:00 a.m. and 12:00 Noon.
Catholic Traditions
Lent is an intense retreat, a forty-day period of reflection and penance that prepares us to celebrate the passion, death, and resurrection of Christ. Our communication with God and our awareness of him is the purpose of prayer. Setting aside ex-tra time each day helps intensify the season. Prayer includes daily Mass, Stations of the Cross, communal penance services, and private confession. Making restitution for sin as well as disciplining our hearts and minds to focus on God is the purpose of penance. It helps us restore a sense of balance to our souls, thrown out of kilter by sin. Penance includes personal sacrifice, self-denial, fasting, almsgiving, and charitable works. Finally, spiritual practices help us sharpen our understanding and insight into the meaning and understanding of our faith. When you take your faith seriously, you do what is necessary to follow Jesus more closely, to integrate your life and your faith more carefully.
Stewardship
During Jesus' life on earth, he gave sight to the blind, food for the hungry and comfort for the hurting. In the same way, we are called to use our lives and resources to help the needy. "Therefore, as we have opportunity, let us do good to all people, especially to those who belong to the family of believers" (Galatians 6:10) The Apostle John wrote, "if anyone has material possessions and sees his brother in need but has no pity on him, how can the love of God be in him? (1John 3:17) Through the working of the Holy Spirit, God will open our eyes and our hearts to those who need our support.
In Your Prayers
Please remember in your prayers the health intention of Marcella Adams, Francis Adams, Arlene Balestino, Rosemary Barcaro, Barbara Barker, Ann Bauer, Donald Belsey, Paxton Burr, Kierra Chirdon, Anna Chonko, Ron Clawson and family, Denise Conrad, Mary Costlow, Betty Dalansky, Evan Decker, Dominick DeVecchis, Thomas Dobson, Joan Donnelly, Debra Dorazio, Matt Dorman, May Duey, Mike Dutchard, Jacob Eshlenan, Shirley Fanella, Gianna Feather, Kathleen Foster, George Frederick, Anna Marie Gority, Helen Gummo, Jean Hagan, Elaine Hauser, Janet Hilton, Michael Himes, Nancy James, Ken Keagy,Virginia Kimberly, Larry Knott, Sr., Meredith Kuhns, Riley Marie Lansberry, Brody Lidwell, Perry Lloyd, Larry Lytle, Patty Maria, Tom McGinnis, Brigid McManaman, Vicki Medeiros, Debbie Murtagh, Kevin O'Rorke, Donny Ott, Randy Parson, Joe Peroni, Rene Reynolds, Camden Rhodes, Linda Rineheimer, Joan Robison, Gavin Ross, Christopher and Tina Ruffing, Patty Ruffing, Maureen Sherbine, Jacqueline Smith, Richard Soller, Clara Tomlinson, John Templon, Pete Szebin, Caitlin Thompson, Carole Treese, Mary Pat Williams, Angie Yingling, and Daniel O'Brien's safe deployment.

In the event our prayers have helped, you are asked to call the rectory to have your name removed from the list. You can always have it put back on if need be. Thank you.

To have a name added to the prayer list, please call the rectory office before noon on Monday to have the name placed in that weekend's bulletin. You must have the person's permission to print their name.